Optimize your affiliate program | Interview of Babymoov
Interview Chloé Neyrial – Group e-commerce manager Babymoov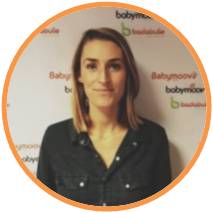 Hello Chloé, thank you for agreeing to take part in our interview and to introduce Babymoov and your missions.
We helped you to optimise a "young" affiliate marketing program, in order to increase visibility with the best Early Childhood partners, while meeting ambitious turnover objectives and a Target ROI. We would be delighted to hear about your experience on the subject. May I suggest you start by introducing yourself.
Chloé, so that our readers can get to know you, can you tell us who you are and what are the missions and challenges of your position at Babymoov ?
I'm Babymoov's e-commerce manager. I monitor and develop the sales of our e-shops at a group level. I also manage a team of digital experts to implement acquisition, conversion and loyalty strategies. 
What were the initial motivations for babymoov to create an affiliate programme ? 
Our main objectives were to activate a new lever in order to diversify our channels and not depend on just a few, but more to harmonise our online acquisition strategy.
The secondary objective was also to centralise our search engine optimisation actions.
How has this initiative been received by your influence/media partners ?
It allowed us to go further in our influence and media referencing strategy. Our initiative was well received, we were able to create a win-win logic where affiliate marketing brings recurrence within our influence actions.
How did the Affilae teams support you in this project ?
Top notch! I worked with another affiliate marketing agency that was not transparent about the actions carried out, I did not understand the details of the commissions and I had difficulty evaluating the performance of our campaigns. With Affilae, I have access to very clear reports, I have learned a lot about how affiliate marketing works and I have a clear vision of what is being done. This allows us to be more relevant in our campaigns. 
In your experience, what are the advantages of working with a platform like Affilae? Would you recommend Affilae ?
Yes I would highly recommend Affilae for their transparency, support and platform that allows for fair payouts to publishers while rewarding the top of the funnel affiliates. They have also effectively helped us to make the right mix between awareness & conversion campaigns to achieve a great ROI.
Chloe, thank you so much for your trust and for giving us your time.
A pleasure to work with you and I hope we'll do more great affiliate campaigns.
Want to know more?
Find out what our results are with the Babymoov case study: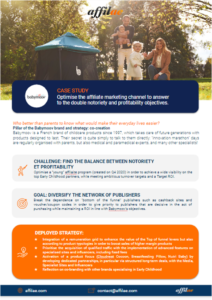 Chloe, thank you for this quick interview! It's always a pleasure to talk to you. I think that this contribution will have allowed the brands you work with, and those to come, to better understand your business. 
Obviously, if you think that Babymoov's added value could be an asset for you, don't hesitate to send them a message directly on their profile page (put the link) 📩 (only accessible to advertisers in the Affilae network)