Influence is rationalized. Ethics and transparency are essential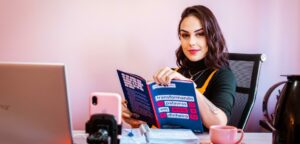 As no one can have escaped the rise and advent of influencer marketing in recent years, it is now a powerful and segmented industry that is growing very fast, but which requires good practices of transparency and loyalty.
Influencers federate beautiful and active communities on their social networks and as a proof, the growth of influencer marketing has seen the estimated size of its market increase from 6.6 billion dollars in 2019 to 9.7 billion dollars in 2020. So in 2015 there were only 190 influencer platforms and agencies, some four years later there are almost 1120!
To illustrate: "The three biggest French YouTubers made 81 videos that generated 19 million views, that's the audience of the Football World Cup final!"  Stephane Bouillet, founder of the Influence4you platform.
What are the figures for influencer marketing in 2021?
This year, the Observatory of Responsible Influence led by ARPP (Autorité de Régulation Professionnelle de la Publicité) and the actors of the profession, measured the degree of compliance of practices relying on a methodology combining artificial intelligence and human analysis.
➜ Of the 30,318 contents analysed, referencing 7013 influencers, only 20.94% were found to be "influencer-brand" collaborations, i.e. 8085 real commercial publications.
➜ Similarly, the article "Influencer Marketing Benchmark report 2020" reports on a study of a sample of 4,200 posts made by 1,000 micro-influencers which highlights that only 14% of the messages were fully compliant with the regulatory guidelines set by the US agency FTC* and its UK counterpart the CMA*.
The analysis of practices also revealed that the lack of transparency was mainly due to influencers with a small audience.
Indeed, the rate of breach for influencers with more than 1 million followers is 12.6% against 43.1% for those with less than 10,000 followers.
➜ 26.6% of publications do not reveal their commercial intentions, i.e. 1/4.
It appears then that influencers are more respectful of the rules when they become more professional.
➜ 6515 contents analysed on YOUTUBE and 18 803 on INSTAGRAM
➜ 25.5% of content analysed on YOUTUBE vs. 74.5 on
➜ INSTAGRAM – REECH
➜ 10% TOP TAIL = +1M followers
➜70%MID TAIL = 10K-1M
➜ 20% LONG TAIL = -10K
➜ On TIKTOK: 5000 pieces of content brought up ( 1713 influencers) -TRAACKR
➜ 6.22 %TOP TAIL = +1M followers
➜ 85.66 % MID TAIL = 10K-1M
➜ 8.12 % LONG TAIL = -10K
On the other hand, we find that influencers (between 10k and 1million followers) play it transparent when it comes to their commercial publications.
➜ 70% of the rules are respected on the INSTAGRAM and YOUTUBE platforms, and over 85% on TIK TOK.
In an educational and CSR approach, ARPP and professionals in the sector with the help of Media Institute have decided to create a Responsible Influence Certificate that will enable influencers to appropriate good practices, protect their audiences, and be able to differentiate themselves with brands.
Rationalisation and professionalisation of influencer marketing?
"The Influence Observatory has allowed us to obtain an objective vision of the application of the rules, to draw a key lesson on the profiles of influencers towards which to reinforce the teaching of good practices and to quickly provide a response to this observation with the implementation of the certification.  Meryem Amri, Brand & Experience Director of the Union des marques
According to the study, by 2025, all companies will be called upon to engage in influencer marketing.
➜ The Influencer Marketing Benchmark report 2020 states that 91% of the professionals it surveyed believe that influencer marketing is an effective marketing tool and that nearly 84% of them revealed that they have increased content production in the last two years.
As a result, the report shows that companies practising influencer marketing are achieving impressive returns: up to $18 of media value gained for every $1 spent on influencer marketing.
And while nearly 78% of companies surveyed drive their influencer marketing in-house, 22% prefer to use agencies or services, sometimes making the choice of expertise (1) by favouring micro-influencers over large "scale" influencers.
➜ The vast majority (80%) have decided to spend more than 10% of their budget on influencer marketing.
Through the steps taken by ARPP, in particular the creation of a Responsible Influence Certificate for content creators, influencer marketing is therefore becoming an industry that is rationalising itself and becoming responsible and transparent.
On the subject, influencer affiliate marketing is a good way to work with influencers over the long term and to aspire to greater transparency and ethics in brand-influencer relations.
___________________________________________________________________________________________________________________________________
* Federal Trade Commission (FTC) (Commission fédérale du commerce) agence indépendante du gouvernement des États-Unis
* Competition and Markets Authority (CMA), l'autorité britannique de la concurrence
(1) Donnée de  CreatorIQ : changement d'orientation des marques utilisant des méga-influenceurs vers les micro-influenceurs considérés comme des experts.
Source : https://www.arpp.org/actualite/resultats-observatoire-influence-responsable-2021/
Source : https://influencermarketinghub.com/ebooks/Influencer_Marketing_Benchmark_Report_2020.pdf