Programs marketplace
If you wish to apply for an affiliate program, you can do so through the advertiser marketplace.
To do this, in your interface, please click on the following logo from the left menu:

You will then need to select the apply to an affiliate program page.
You will be redirected to the program marketplace:
​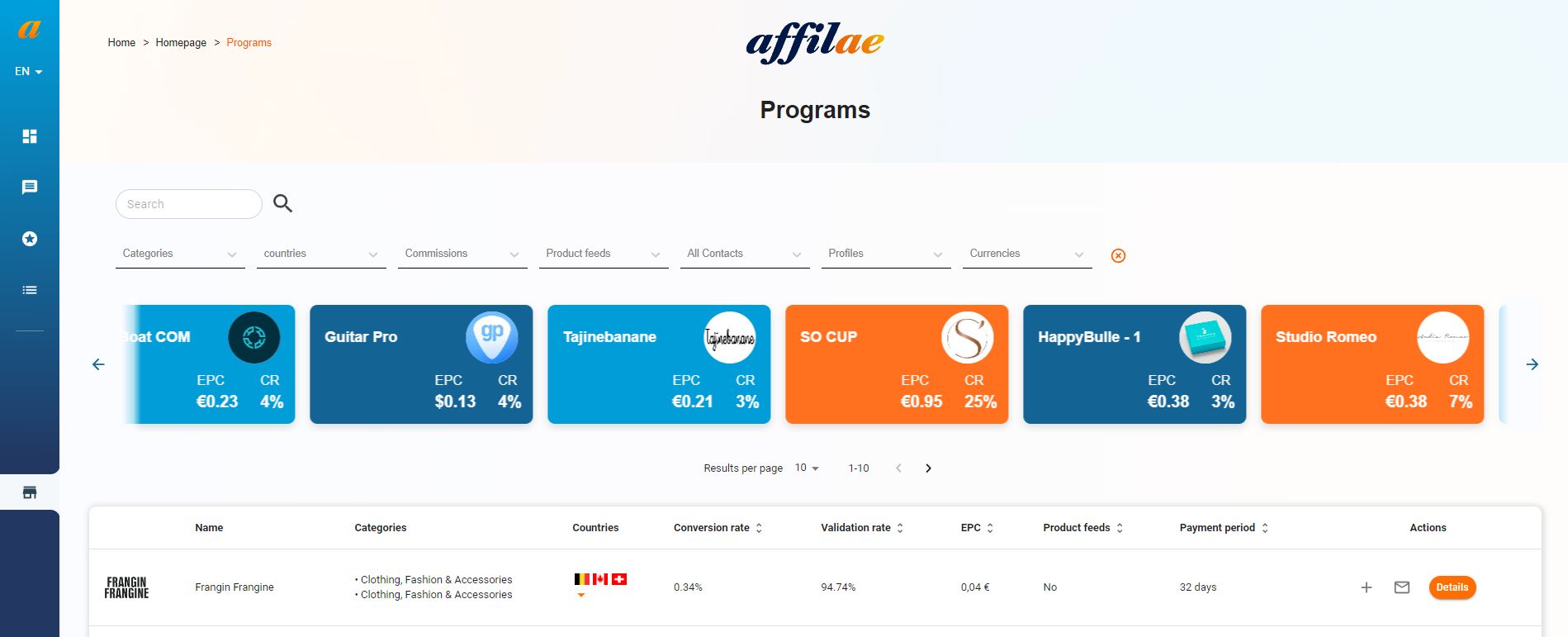 ​
Program Search Fields
Through this page, you will be able to search for programs based on different criteria:
Search Fields:

Easily search for a program using keywords or by entering the brand name.

Filters:

Categories:

Filter programs by their categories.

Countries:

Search for programs based on the countries where they are available.

Commissions

:

Find programs based on the commission methods they offer (CPA, CPL, and/or CPC).

Product Feeds:

Display programs that offer a product feed.

Contacted:

Allows you to display programs that have been contacted or not.

Profiles:

If you have multiple publisher profiles, this feature allows you to search for one or more of your profiles. This allows you to include programs in the search that are present on one profile but not the other.

Currencies:

Filter programs based on the currencies they pay in.
Programs slider
By default, Affilae offers you a top 10 list of the best programs based on two criteria, EPC and conversion rate. By clicking on a program thumbnail, you will be automatically redirected to the brand's presentation page.
This slider will automatically update based on your search criteria to show you up to a maximum of 10 programs.
Programs display
Based on your search criteria, we will then display a list of programs.
You will find the following information:
Program name

Program categories

Countries where the program is available

Program's average conversion rate.

Sales validation rate

Average EPC

Presence of a product feed

Average invoice payment time
The actions column includes various additional actions.
The + button allows you to add the advertiser to the bulk partnership request list.
By selecting multiple programs, an apply button appears on the right.
By clicking on this button, you can apply in bulk to your selected programs while sending a contact message.
The

contact

button allows you to send a message to a program.

The

details

button redirects you to the program's presentation page.

Program Presentation Page
The presentation page allows you to find the affiliate program's information and conditions.

Presentation Box:
You will find a link to the advertiser's website and a brief brand presentation.
The countries where the brand is present are also listed. The geographical area indication means that the brand only considers traffic from the specified country or countries.
Under the brand's logo, you can contact the brand or apply for the program.
Right-hand Box:
This box provides details on program conditions:
Maximum commission rate of the program

Program commission attribution

Tracking duration

Minimum payment threshold

Session duration.
Performances Box:
Here, you will find a summary of the program's performance:
Conversion rate

Average payment delay

Average conversion validation rate

Average response time to Affilae's internal messaging

Program's average EPC
Below the presentation, you will have three sections.
This section indicates the program's remuneration conditions.
This section shows you the different advertising elements of the program.
This section contains additional conditions of the program. This part indicates what is allowed or not allowed in the program's promotion.