Affiliate marketing on Instagram
How to use the power of Instagram in Affiliate Marketing?
You've recently launched your affiliate program and you want to find influencers on Instagram among the affiliate types you're activating. You want them to talk about your products, showcase them to their community, and help generate sales for you.
Great idea! But how do you approach them? What should you offer them? How do you compensate them? Is affiliate marketing a good fit for Instagram?
Affilae has listed some key tips for you to succeed in your Instagram affiliations.
First, let's remind ourselves of the value of Instagram as a prescriptive network.
1. Some Figures
Created in 2010, Instagram is a multi-platform social network and a photo and video sharing service.
Activating this channel allows you to build brand awareness and sell your products and services. As a prescriptive channel at the beginning of the conversion funnel, Instagram's main goal is brand awareness, introducing products and services to different influencer communities. While it's true that brand awareness actions are more inherent to this channel, some influencers have highly engaged communities and are also conversion generators.
For example, product demonstrations instill trust, and it's not uncommon for influencers to be self-sufficient in conversion funnels.
2. Identifying the Right Influencers and Recruiting Them
There are several types of Instagram users, categorized based on their number of followers: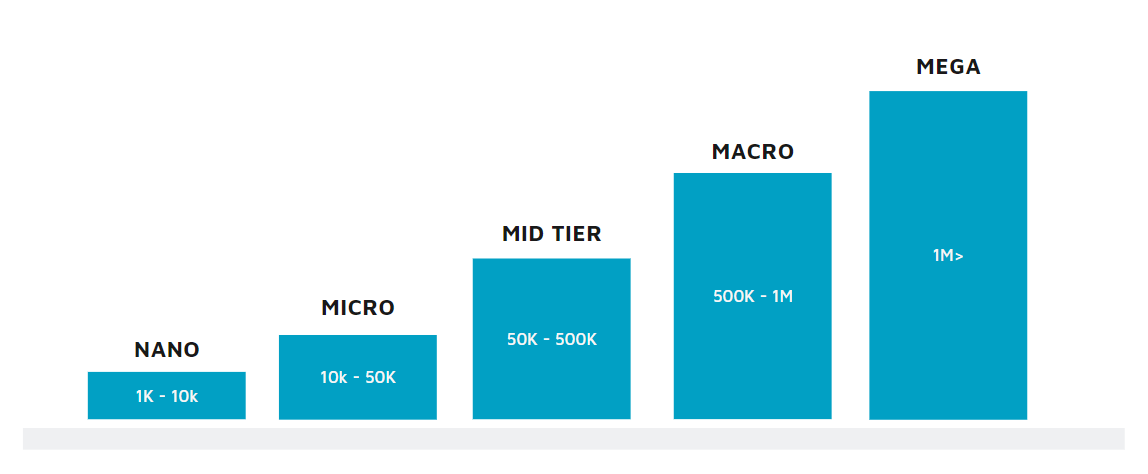 An authentic, unique, dedicated relationship:
Each influencer has their own signature and theme (also known as editorial strategy). It's important to note that a good synergy between the brand and the content creator is essential for a lasting collaboration. So, don't hesitate to immerse yourself in their content, the hashtags they use under their photos, and their profile descriptions before reaching out to them. This will help you build quality partnerships.
For example, the number of followers is important, but engagement rate is crucial:
Engagement Rate = ((Likes + Comments) / Followers) * 100
It's important to note that a small, engaged, and loyal community can sometimes have a greater impact and be more attentive than a large community with a low engagement rate.
To help you assess the potential of an Instagram influencer, you can rely on Instagram search or tools like HypeAuditor or Kolsquare.
Don't forget: Influencers appreciate genuine, non-opportunistic contact. Act accordingly to convince them.
Some tips:
Contact

: Send personalized messages, not automated ones.
Budget: Negotiated deals should always be a win-win situation. You should consider reconciling the content creation that the influencer does for you with your need for performance (see below).
Promotion: Think about their community, and if your positioning allows for it, why not offer them a dedicated promo code in addition to the product's intrinsic value?
3. What Are the Instagram Content Formats?
Instagram, Facebook, Snapchat, Pinterest are all different social networks with unique mechanics. Instagram has stood out by capitalizing on the visual trend while leaving room for creativity.
Possible formats for affiliate marketing on Instagram: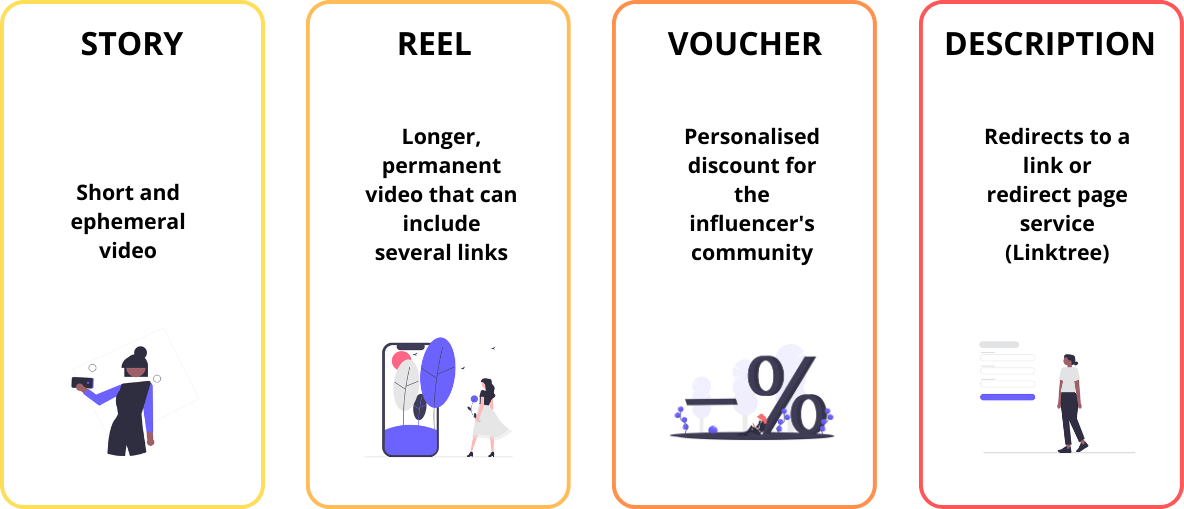 Links in Stories

are possible using the famous "Sticker button" (formerly "Swipe up"). This functionality has been available to all profiles since late 2021, without a minimum number of followers as was the case with "swipe-up."
Tip : Since a Story is available for 24 hours, you can put it in "Story Highlights" so it's visible beyond the daily limit.
Edit September 2021: Instagram released an update to replace "swipe up" with a clickable button that redirects to a specific URL. With this change, we expect a decrease in click-through rates in Stories. However, these clicks are likely to be more engaged.
Dedicated promo code campaigns. Affilae allows you to assign dedicated promo codes to your influencers and pay them based on the sales they generate. The idea is to bypass tracking links and compensate them for actual sales.
The link in the bio is a unique and short link, visible on the main page of the Instagram account. It can redirect to any link, such as an article, a linktree, a bitly link, or the advertiser's homepage.
Reels are longer videos than Stories and have no expiration date. This format is similar to what YouTube offers, allowing the insertion of multiple affiliate links.
Tip 1: Currently, it's impossible to track Instagram posts (except through a promo code), but a post can increase brand awareness due to its increased visibility.
Tip 2: Affilae offers several types of tracking URLs. To ensure Affilae detects your links on Instagram, it's recommended to pass them through a redirection format. The SEO format with a hashtag is already utilized by Instagram. This way, the links won't be seen as commercial links.
4. What Compensation Models for Your Instagram Influencers?
An important point to keep in mind is the balance between partnership and partner profitability.
Obviously, as a brand, it's most advantageous to compensate your partners based on sales, as this minimizes your risk. However, in this case, your partner takes on the risk, and the relationship can become imbalanced and demotivating for the partner. The reverse is also true.
So, how can you reconcile the need for performance with the need to secure the time invested by the partner in creating content for your brand?
There are several compensation models, and almost all of them are viable: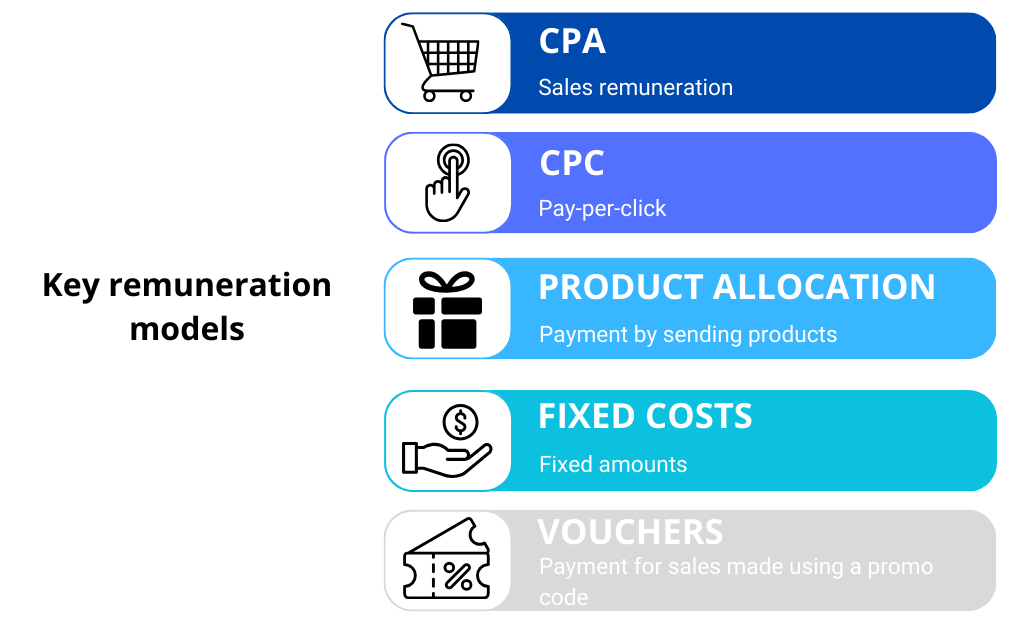 You can

send products

. This is crucial compensation for content creators who need to have the product in hand to provide personalized and genuine feedback to their community.

Cost Per Acquisition (CPA)

is a compensation model that pays the affiliate for each sale made through their link (usually a percentage of the sale).

Cost Per Click (CPC)

is a compensation model that pays the affiliate every time a click is made on their link (usually a fixed amount per click).

Fixed Fees

: The affiliate requests a specific amount (usually a fixed fee).
Personalized Promo Codes.
Have you considered hybrid compensation models?
This is our advice for reconciling your performance needs with the content creation security needs of your partners.
For example, an Instagram influencer can be compensated based on both CPC and CPA when doing a Story. This way, the brand can ensure profitability because it won't pay a sum that might consume the influencer's entire monthly budget, and the content creator can secure income through CPC.
You can also base compensation on a small fixed fee (€150-200) plus CPA.
In summary, the value of affiliate marketing in influencer partnerships, especially on Instagram, lies in going beyond the one-off approach with product sending and building lasting relationships with your influencers by encouraging recurring collaborations.