Blog & Affiliate marketing | Interview of LesBridgets.com
Interview Mélanie Mâge – Founder of LesBridgets.com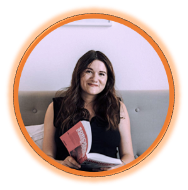 Hi Melanie, as luck would have it, we recently spoke to each other and here you are at the top of our interview series highlighting our greatest publishers.
While we were exchanging, I discovered that you base your monetization solely on affiliation and I wanted to know more! 
Mélanie, can you tell me more about LesBridgets.com, what led you to create this blog? What topics do you like to highlight?
At the very beginning, it was a project for the end of my web training to validate my assets in 2005. Even if I had to spend months on it, I refused the imposed subject and chose a subject that interested me. Meaning a subject I wanted to write about in order to summarize relationships: couples, being single, seduction, break-ups, sexuality.
I love to share references, thoughts and stories on the subject.
Then 3 years later, I created consommactrice.com to talk about my second favorite subject : ecology and more particularly the SSE (Social and Solidarity Economy).
Can you tell me who your readers are? How do you work with brands in line with your editorial strategy? (Targets, Product Reviews, Editorial strategy)
Overall my readers are quite mixed. There are as many men as women. But if I look at some of my social networks, they are (at the high end) between 25 and 39.
It remains quite varied according to the subjects because for 15 years, the articles have been numerous and different.

My strategy is that I only write about what makes me happy. That is, when I have an idea or a question and it inspires me. Several types of partnerships are possible depending on the subject.
Why did you choose affiliate marketing as your main source of monetisation? (What are the benefits of affiliation for you? how has it helped you?)
First of all, it's important to know that I didn't monetise the website for a very long time. I have only been making a living from it for a few years. 

I decided to give it a try when I heard my friends say 'It's crazy that with all your traffic you don't make a living from your website'.

I did research, attended conferences, talked to other content creators and affiliate marketing seemed to be one of the most discreet and reliable ways to profit from my traffic.
While keeping my editorial freedom to continue publishing what I wanted.
What criterias are important to you when accepting a partnership with a brand?
Ethics. That the brand corresponds to my values, i.e. as eco-responsible as possible.
On the contrary, what do you find prohibitive in the relationship with a brand?
I reject online gambling sites. Or, for example, large multinationals like Coca Cola, Starbucks and other fast-fashion brands that have catastrophic consequences for the environment.
If you had to give one piece of advice to a brand that is hesitant to create an affiliate program, what would it be?
Take advantage of websites that are well regarded by Google (like mine) to position yourself quickly on queries that you will have difficulty obtaining with your new website.
It can cost you less than Facebook or Google advertising because among other things you only pay if there are sales and not just clicks and impressions.

Offer your product for testing so that the editor's feedback is accurate and sincere with unique photos. Personally, I can't write about a product I don't know.
Finally, don't neglect your relationship with the blogger, especially with payments, as it's the overall image of your brand that is at stake.
————

Mélanie, thank you very much for taking part in this exercise! No doubt that your transparent contribution will allow the brands you work with and all those to come to have a better understanding of your added value and to project themselves in a partnership with you. 🙂
Of course, if you think that Melanie's added value could be an asset for you, don't hesitate to write to her directly, by sending her a message on her profile page.📩 (accessible only to advertisers in the Affilae network)